4 tags
Seascape 10 - Timelapse there of
Seascape 10 and Seascape 12 were completed both around the same time. This one too took rather long. see it develop below.
4 tags
Seascape 12 - Timelapse there of
I've just completed this seascape recently. It's been through a rather lengthy process, but I'm happy at last with the outcome. See it's development below.
5 tags
2 New Paintings Almost Finished
Will be posting final images and a series of images documenting the development of the painting from beginning to end once they"re finished, hopefully they'll be done soon.
5 tags
Crazy Crates Painting
6 tags
Out of This Town
                                                                 Acryllic and Oil on canvass                                                                                    30cm x 30cm Yesterday I took part in a communal creative session at art jamming studio in Cape Town where a number of artists were invited to do an artwork for Cape Town band The Plastics' new album Pyramid. We...
6 tags
New Studio!!
 So I've moved into a new studio pictured below. Above is a picture of the one I've just moved out of, now empty and derelict. As I type this I'm in the process of setting up my new space. Yesterday we put up sheets of ply so that there's a nice flat wall to work off. The walls still need another coat of paint, but I intend to move all my furniture and and organise the...
6 tags
Chaos, more CHAOS
Some Hockney and a little bit of Richter and maybe a cloud or two. Things are pretty nuts at the moment. I am currently in the process of moving to a new studio so everything is a bit deur mekaar (all over the place) There won't be any posts for a few days now, but as soon as I start getting some order in the new space I'll be uploading photos. In the mean time here are a few photos...
5 tags
Back at it again
Watch this space for more further documentation.
5 tags
7 Paintings 2 Days
I am sorry to say that I am missing a few photos that document the start of each painting. I was a bit nuts and documenting every step was not my priority but I realise now that it is kind of important. None the less these were seven quick paintings I did for Creative Block I use them as a way to explore different techniques and ways...
4 tags
This is All
with the inclusion of a photograph of the sun setting over signal hill, from the kitchen window at the Bijou.
7 tags
Monday Monday
                                                  Misty Cliffs, Scarborough, Cape Town                             Misty Cliffs Black and White, Scarborough, Cape Town These two seascapes are inspired by Gerhard Richter and Hiroshi Sugimoto. I feel like I've gone full circle in my work. But shooting these feels slighlty different. I now have a better understanding of what both...
4 tags
Monsieur Hockney
                                                                        A Bigger Splash 1967 This is a process blog of my own work so I shouldn't be uploading work of other artists. But the work of David Hockney is something I have been interested in for a while and spent much of the day yesterday researching the 2 paintings below and the one above. Therefore it only makes sense for me...
6 tags
The Creative Block
Seascape 10 is underway as well as several new small paintings I'm doing for The Creative Block an initiative which aims to give oppurtunities to artists and showcase their work overseas.
4 tags
Meanwhile
Rochester Road, Observatory Watercolour on  Hahnemuhle paper Unfinished
6 tags
Stuck In Time
Then I begin Again. A mental block in mind regarding the canvass I'm painting has forced me to buy a new one. One which I'm used to and don't have to stress about right now.
6 tags
Moving Forward in Time (part 2)
6 tags
Stuck In Time
Then I begin Again. A mental block in mind regarding the canvass I'm painting has forced me to buy a new one. One which I'm used to and don't have to stress about right now.
6 tags
Behind Time (part 1)
4 tags
Mental Block Overcome
This is a new painting I've just started work on. Starting to look experiment with colour a bit more.
6 tags
In Time, Now
In time, now 215cm x 170cm oil on canvass Any time, now 40cm in diameter oil on canvass The two paintings above were completed just a few days ago for a group show at a local gallery here in Cape Town called Salon91 More to follow
8 tags
Chaos to Light
Sometimes I tend to spin out. Ask myself why am I doing this, have doubts and basically go into a state of panick. During these times I've started to realise that the best thing to do is to lock myself in my studio and just make stuff. This way instead of dwelling on the thoughts I am rather being productive.
9 tags
White Termite
On Wednesday the 9th of May at 18:00 White Termite by Liza Grobler opened at the Brundyn and Gonsalves gallery in Cape Town. The exhibition draws loosely on Eugene Marais's book, Soul of the White Ant as well as many of Lizas' own thoughts and ideas. There are many recurring themes in each work which help to tie the executed exhibtion together to make...
8 tags
Behind the Termite
Installing LIZA GROBLER'S show, White Termite, opening on Wednesday 9 May at BRUNDYN AND GONSALVES gallery at 18:00.
7 tags
Seven
6 tags
On The Wall
Impulse has taken me to the harbour. I am completely intrigued by the size of all the machinery, the cranes specifically. I'm not sure what I want to do with them yet, but I documented them for now anyway… Visual Research Cape Town Harbour: photos included in visual research.
6 tags
Black and White
Hangklip Baai Edward Liza Grobler Swing The Lady of the House Goodbye Gone
6 tags
Seven in Progress
5 tags
6 tags
New Notebooks
Just bought these 3  little books from Chris Auret. Convenience in your pocket. Image courtesy of Chris Auret. Thanks bru. 
Enter Studio
I've upgraded to a bigger space in the old Bijou Theatre in Observatory. I'm now sharing an approximately 135 sqr meter space upstairs with 3 other artists. Quite incredible!
7 tags
Look! A Hawk
For the past few weeks I've been working with artist Liza Grobler and photographer    Hannah Paton on HAWK (Hangklip Art Week). The aim of the event was to bring together artists from an urban environment (Cape Town) and rural environment (hangklip BAai) to exhibit and showcase work together outside of the gallery which has becoming a traditional space for viewing art. Without...
8 tags
Creating a Hawk
The following images are all photographs from HAWK 2012. The photographs document some of the the installation of Liza Groblers' artventure "mooi uitsig to Mooiuitsig" All photographs ©swainhoogervorst
3 tags
Review Re-craft
I've disappeared for awhile, and will be gone for a short while longer. Busy recrafting my old design portfolio in case of emergency. Will be back in the studio soon, here's a screen grab for now.
5 tags
Open Studios
Over the weekend past we had our open studios exhibtion. This was basically an event where artist studios were open to the public for them to see and engage with the artists and their work. Below I've just uploaded a few shots of my studio in which I reside. Work by Kilmany-Jo Liversage
5 tags
Sign Up
So I designed this sign below to advertise the up and coming exhibtion that takes place at our studio this weekend. In a gail force South Easter, Chris slack and I  pasted up the sign without being blown off the balcony. CLICK HERE to find out more
5 tags
See Bijou
Open studios exhibition this weekend coming. CLICK HERE to find out more if you live or are in and around Cape Town.
4 tags
Six
21 x 21cm blocks - oil on superwood.
5 tags
Belief & Vision
These are a few photos of a book i made, with the help of Hanlie Coetzee who bound it for me, for my best mate Marti to take to Canada. It's a book of quotes comprised of photos I've taken of quotes and things I've written on the wall in my room. He's in the process of slowly adding his own to the book as he missions along on his travels. This book is going to...
3 tags
Six in Progress
Process photos of the paintings I've been busy with. There are still things I'm trying to resolve, but just thought I'd share them with you anyway. I'm very happy with the first one, but the others still need work. 
3 tags
Six Commence
So i'm just busy on some small (21cm by 21cm) for a restaurant in Gardens called Lazari. Really just bread and butter money, but I use it as a way to play and explore which is always awesome. I've just started the ones you see below except for the 3rd painting, that one i've been busy with for awhile This is my studio. Finally moved in and settled. I'm sharing...
6 tags
Camps Bay
Painting Camps Bay, but just very frustrated by it. Started from my head, but trying to piece it together with references. CURRENTLY NOT WORKING
5 tags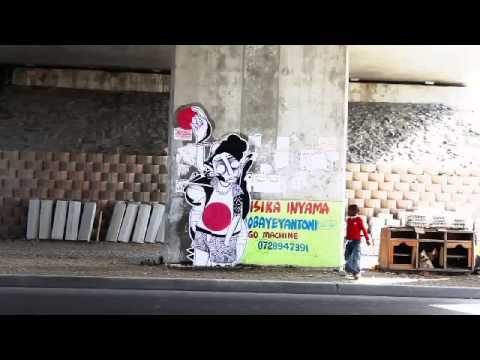 2 tags
Build Up
Paint on the pallette, continuously a source of inspiration. You should always keep your palette clean…
4 tags
Still Glazed Over
Oil on paper. Exploring the technique of glazing
3 tags
Glazed Over
These are very basic experiments looking at glazing, a technique in oil painting, which is the process of layering one colour on top of another to achieve a new colour. For example if you laid blue over yellow the colour you would then see is green. Results below.  
6 tags
Faceless in Woodstock
Recently we ran a Faceless session in Woodstock with the help of  Shani Judes of SJ Artists. She is currently running a project called  Paste  which aims to showcase art outside of a gallery context in different urban spaces. We recently ran a faceless session in the suburb of Woodstock in Cape Town with some of the design students from city varsity. This was the outcome To see more...
7 tags
Faceless Continues
If you didn't click   HERE  then scroll down. A few more portraits of the students that participated in Faceless Woodstock.
4 tags
Getting Glazed Up
Preparing to experiment with a technique called glazing which, simply put, is the process of layering colours on top of one another. These are photos of the first colours laid down in different ways on different surfaces.
2 tags
6 tags